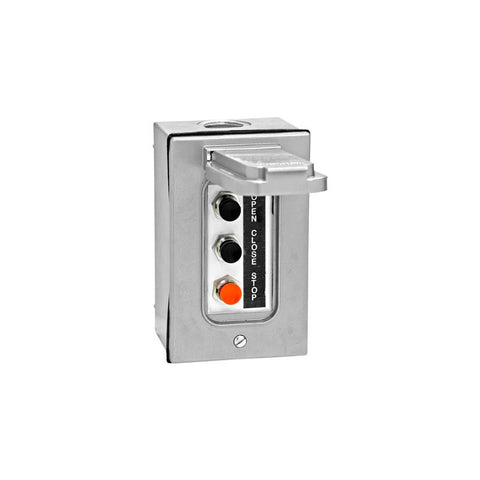 3BXC Open/Close/Stop Control Station for Wet Locations
-Includes Protective Cover
-NEMA 4
-Momentary Contact
-Open/Close/Stop Control Station
-Dimensions: H=4-1/2", W=2-3/4", D=2-3/4"
A new line of pushbuttons for commercial and industrial applications. Available in 1,2,and 3 button NEMA 4 control stations. They are particularly effective for car washes and other sever application installations.
These new controls are housed in a die cast aluminum enclosure with spring loaded, self closing, weather protective cover. All are gasketed for NEMA 4 exterior use and deisgned specifically to provide protection agains windblown dust and rain, splashing and hose directed water, and external ice formation.
We have 15 years experience working on these products in the field. Please contact us if we can be of any assistance!
---
Net Orders Checkout
| | | | |
| --- | --- | --- | --- |
| | | Subtotal | $0.00 |
| | | Shipping | |
| | | Total | |
---
Shipping Address