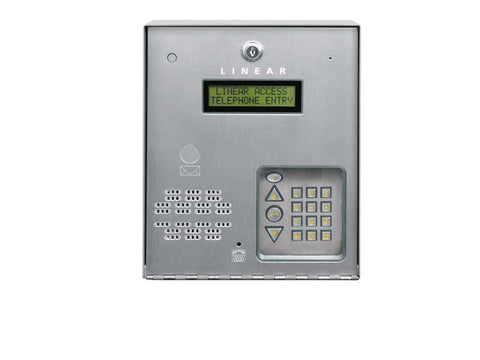 Linear AE-100: Commercial Telephone Entry System - One Door
The Model AE-100 Commercial Telephone Entry System - One Door is designed for use as a primary access control device for apartments, condominiums, and offices with up to 125 residents.
The system can be used in a lobby or outside. Surface, recessed, and pedestal mounting options are supported. The system utilizes hands-free, full duplex telephone communications between visitors and residents for granting access.
Housed in a locked, rugged stainless steel faced enclosure, the AE-100 features a lighted 12-key telephone style keypad and four operation buttons all with bright, easy-to-see graphics. The backlit two-line directory LCD display scrolls a programmable welcome message and shows the directory Names and Directory Codes.
The system contains a built-in microphone, tamper resistant speaker, and a TTY connector for the hearing impaired. The heavy duty access relay can control electric door strikes, magnetic locks, door & gate operators, or barrier gates.
Multi-lingual display programming prompts and voice help is available with a choice of English, Spanish, French-Canadian, or Portuguese language selection for the system. The system can be programmed locally using the keypad, or remotely with a touch tone telephone.
Up to four AE-100 units can be connected to the same dedicated telephone line to form a simple network. Connecting multiple units allows transferring programming data (either the directory entries only or the entire memory's contents) from the "master" unit to the other sub-units.
Optional features that the AE-100 supports are provisions for postal lock and color CCTV camera installation (Model CCM-1A).
The AE-100 is powered from a 16 VAC plug-in transformer and supports an internal rechargeable 1.2 amp/hour backup battery (not included). The battery charging circuit will support an external backup battery with up to 7 amp/hour capacity.
* Applications include small apartment buildings, condominiums, or gated communities
* Many installation choices: surface, recessed, gooseneck
* Stainless steel front panel
* Telephone style keypad with lighting
* Accepts a total of 125 directory listings or stand-alone entry codes
* TTY jack for connection to text communication devices for the hearing
impaired
* Simple network capability with up to four units
* Installer friendly with two programming methods available
* Two-line-16-character LCD display
* Removable terminal blocks
* Programmable through the unit's keypad or over the telephone
* Form "C" access relay rated at 10 amps AC and 7 amps DC @ 30 volts
* Load shed circuitry protects backup battery
* Supports optional color CCTV camera and postal lock
* Optional trim-ring (Model TR-100) for recessed mounting
* 9.75" W x 11.75" H x 3.5" D
* Order number: ACP00937
PRODUCT INFO PAGES
Click Here for Spec Sheet
Click Here for Instructions
We have 15 years experience working on these products in the field. Please contact us if we can be of any assistance!
---
Net Orders Checkout
| | | | |
| --- | --- | --- | --- |
| | | Subtotal | $0.00 |
| | | Shipping | |
| | | Total | |
---
Shipping Address