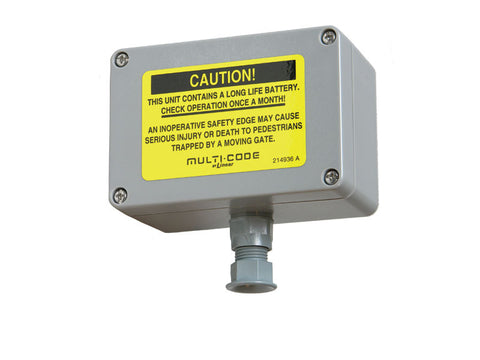 Linear Multicode 3022 10: Safety Edge Transmitter
The Model 3022-10 Gate Safety Edge Transmitter is for adding obstacle sensing for motorized gates or barrier arms. Using a safety edge transmitter is more economical and discrete than the traditional coiled cord connection method.
The transmitter mounts directly on the gate or barrier arm and wires to a standard exterior safety edge sensor (a Miller gate edge sensor is recommended). If an obstacle is encountered, the sensor will present a closed circuit across the connecting wires and the 302210 will transmit a message to the receiver signaling entrapment to the gate operator. The operator then stops or reverses the movement of the gate.
The 302210 transmitter is supplied in a weather-resistant, fiberglass box. Its circuit board is coated to prevent moisture damage. The enclosure mounts to the gate, door, or barrier arm through sealed interior mounting screws.
The Model 302210 is compatible with 300 MHz Multi-Code receivers and Model 109950 and 302850 receivers.
* Compatible with 300 MHz Multi-Code receivers
* Safety edge transmitter
* Activates receiver for stop or reverse entrapment
* No cables or coiled wires
* Mounting hardware (4 screws) supplied
* Powered by 9-volt battery
* 1,024 codes
* Frequency: 300 MHz
* 4" W x 4.28" H x 2.2" D
* Order number: MCS302210
PRODUCT INFO PAGES
Click Here for Instructions
We have 15 years experience working on these products in the field. Please contact us if we can be of any assistance!
---
Net Orders Checkout
| | | | |
| --- | --- | --- | --- |
| | | Subtotal | $0.00 |
| | | Shipping | |
| | | Total | |
---
Shipping Address