BEA 10MATRIXD110 Dual Channel Loop Detector
BEA 10MATRIXD110 Dual Channel Loop Detector
Regular price
$160.00
$160.00
Free shipping on most items over $200
We have 15+ years of industry experience
GSA, Net 30 and purchase orders available
---
Description
BEA Matrix Dual Channel Loop Detector with Din Block

10MATRIXD110 = 110vac model
10MATRIXD1224 = 12-24 vac/dc Model
Matrix Loop Detector that allows customer to connect two independent inductive loops with separate relay outputs. Presence or Pulse outputs for Common, Normally Open, and Normally Closed for each loop.
With more standard features than any other loop detector on the market, the Matrix2-S has the flexibility, compatibility and performance to maximize
productivity and safety on your site.
Matrix2-S is a series of digital inductive, single loop detectors for vehicle access control and safety for doors, gates, and numerous other applications.
PRESENCE time adjustability up to INFINITY
Selection of PRESENCE and PULSE outputs
AUTOMATIC SENSITIVITY BOOST increases the sensitivity upon detection, and allows for continuous detection of high-bed vehicles
Four frequency settings ensure NO CROSSTALK occurs between adjacent loops
The microprocessed Matrix adjusts to OUTSIDE TEMPERATURES - detection is not affected by long-term occupation of the loop.
The Matrix2-S is available in two models to accommodate nearly any application.
Available in single channel mode, and power supply configurations of 110 or 220 volts AC, or 12-24 volts AC/DC
The Matrix is compatible with any door control or application you may encounter
Unlike traditional DIP switches, the Matrix2-Ss continuous mode adjustments allow for precise settings to match your application
Settings such as sensitivity and presence are adjusted via potentiometer so wide ranges and precise adjustments are made easy
Matrix Components
Main connector (86CP11)
Power LED
Presence time potentiometer
DIP switches
Detection state LED
Sensitivity adjustment potentiometer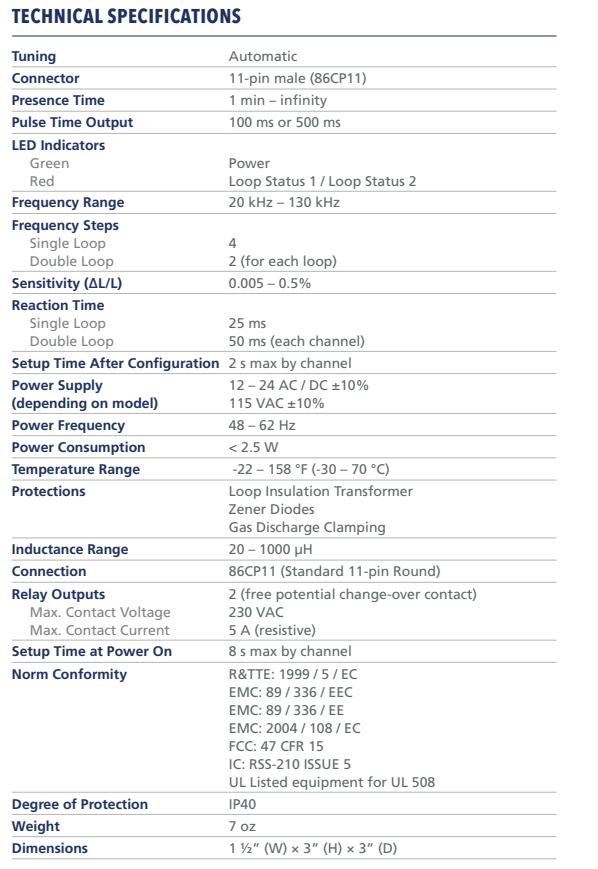 All in stock orders typically ship the same business days or within 1-2 business days.  Cut off for same day shipping is 2:30PM Central Time.

LEADTIME
Items with lead times typically ship in 4-7 business days.

FREE SHIPPING POLICY
Orders with free shipping may have longer lead times due to those items being shipped the most economical way.  Free shipping on most orders over $195.00 does not include gate operators, loop sealant, and any extreme length or weight items
Our return policy lasts for only 30 days. If 30 days have gone by since your purchase, unfortunately we can't offer you a refund. Some items such as Gate Operators or custom parts may not be returnable or carry a restocking fee if returned.
Protec Controls accepts purchase orders please contact us.
NET 30
We also support Net 30 terms on our website for easy ordering. Please fill out the form to the right with your company information and we will get your account setup to place Net 30 orders.
GOVERNMENT & GSA
Protec Controls accepts GSA SmartPay cards along with all major credit cards. For government quotes and purchase orders please email govsales@proteccontrols.com